Eine köstliche Fusion klassischer französischer Küche mit Gewürzen aus dem Nahen Osten. Auberginen, Tomaten, Paprika, Zucchini und Zwiebeln mit einem Hauch Bockshornklee, Kreuzkümmel und Ingwer. Dieses herzhafte Ratatouille ist perfekt zum Teilen und wird wunderbar ergänzt mit Every. Brot.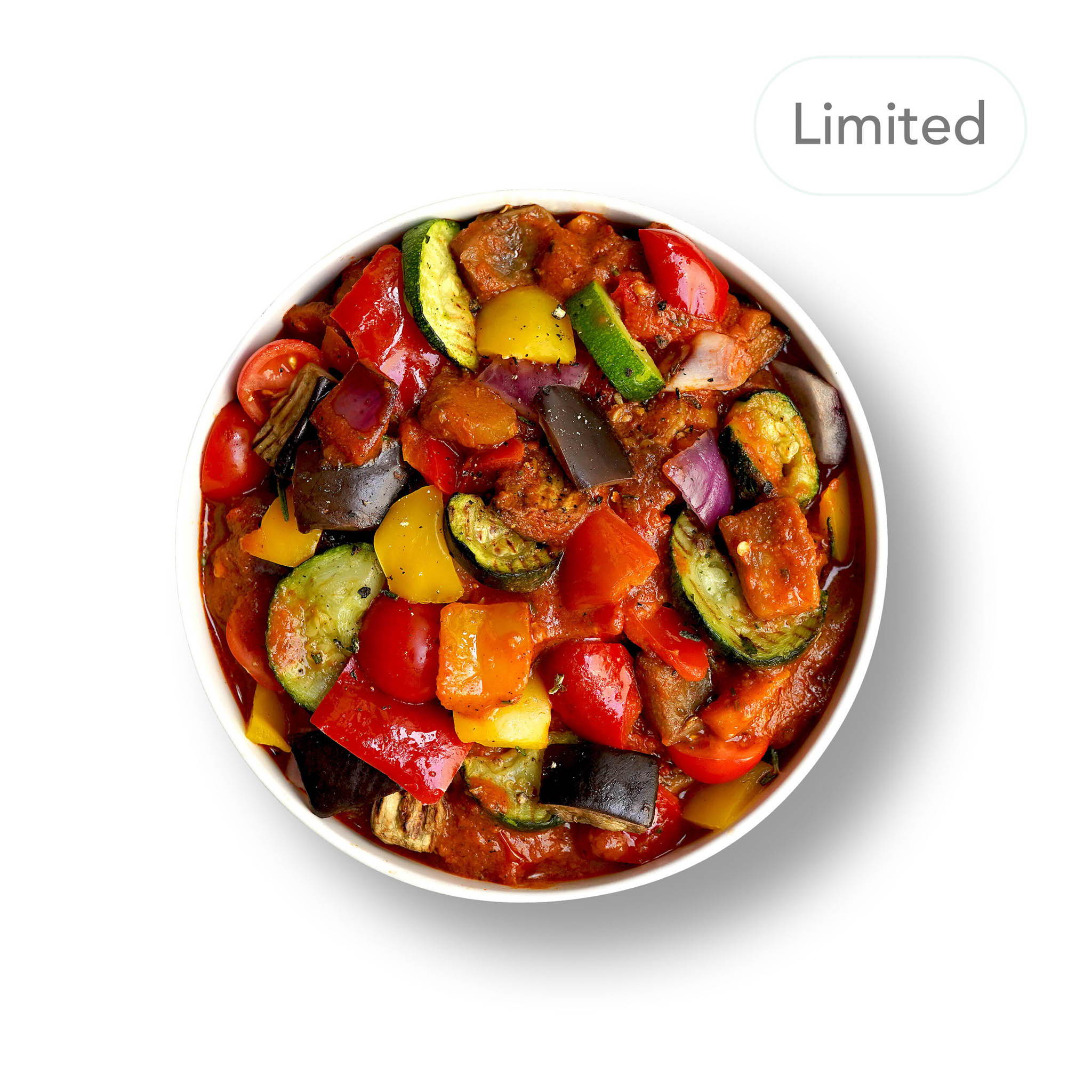 Red Peppers
A good source of antioxidants, folate and dietary fibers.
Roasted Eggplant
They provide essential dietary fiber and antioxidants – and give us that instant holiday feel, especially when they're well roasted.
Tomatoes
Sonnengereift und lecker sind Tomaten reich an Anti-Aging Antioxidans Lycopin.
| | | |
| --- | --- | --- |
| Typical values / Durchschnittliche Nährwerte / Gemiddelde voedingswaarden / Valeurs nutri tionnelles moyennes / Gennemsnitlige Næringsværdier | per / pro / om / par / 100g | 500g |
| Energy / Energie / Énergie / Energi | | |
| Fat / Fett / Vet / Graisse / Fedt | | |
| - of which saturated fatty acids / davon gesättigte Fettsäuren / hiervan verzadigde vetzuren / dont acides gras saturés / heraf mættede fedtsyrer | | |
| Carbohydrates / Kohlenhydrate / Koolhydraten Glucides / Kulhydrater | | |
| of which sugar / davon Zucker / van welke suikers / dont sucre / heraf sukker | | |
| Dietary fiber / Ballaststoffe / Vezel Fibres alimentaires / Kostfibre | | |
| Protein / EiweiB / Eiwit / Protéine | | |
| | | |
| Enthält eine Portion (500g). Contains one portion (500g). Contient une portion (500g). Bevat één portie (500g). Indeholder en portion (500g). | | |
Swipe for descriptions in further languages:
Zutaten:
Gegrillte Aubergine, frittierte Paprika (Paprika, Sonnenblumenöl), Paprika, Zucchini, Tomaten, Cherrytomaten, Tomatensaft, rote Zwiebeln, nativen Olivenöl extra, Sojasauce (Wasser, SOJABOHNEN, WEIZEN, Speisesalz), Ingwer, Speisesalz, Rosmarin, schwarzer Pfeffer, Koriander, Kreuzkümmel, Kardamom, Bockshornkleesamen, Piment, Muskatnuss
Zubereitung:
In der Pfanne mit Deckel (empfohlen):
Gefrorenes Gericht mit 2 EL Öl in eine vorgeheizte Pfanne geben. Auf mittlerer Stufe erhitzen, bis die Sauce weitestgehend flüssig ist. Dann weitere 2-4 Minuten auf hoher Stufe köcheln lassen. Regelmäßig umrühren.
In der Mikrowelle:
Gericht in einen mikrowellengeeigneten Behälter mit 2 Esslöffel Öl geben. 7-8 Minuten bei 800 Watt erhitzen, bis alle Zutaten vollständig erhitzt sind. Gelegentlich umrühren.
Pro Tipp:
1 EL Ahornsirup hinzufügen, um das volle Aroma der Tomate zu entfalten.
Ingredients:
Grilled aubergine, fried peppers (paprika, sunflower oil), peppers, zucchini, tomatoes, cherry tomatoes, tomato juice, red onions, extra virgin olive oil, soy sauce (water, SOYBEANS, WHEAT, table salt), ginger, table salt, Rosemary, black pepper, coriander, cumin, cardamom, fenugreek seeds, allspice, nutmeg
Cooking instructions:
In the pan with lid (recommended):
Put the frozen dish in a preheated pan with 2 tablespoon of oil. Cook at medium heat until the sauce is largely liquid. Let simmer for another 2-4 minutes on high heat. Stir frequently.
In the microwave:
Place the frozen food in a microwave-safe container with 2 tablespoon of oil. Heat for approximately 6-8 minutes at 800 watts until all ingredients are cooked, stir occasionally.
Pro Tip:
Add 1 tbsp of maple syrup to elevate the tomato flavour.
Ingrédients:
Aubergine grillée, poivrons frits (paprika, huile de tournesol), poivrons, courgettes, tomates, tomates cerises, jus de tomate, oignons rouges, huile d'olive extra vierge, sauce soja (eau, SOJA, BLÉ, sel de table), gingembre, sel de table, Romarin, poivre noir, coriandre, cumin, cardamome, graines de fenugrec, piment de la Jamaïque, muscade.
Instructions de cuisson:
Dans la casserole avec couvercle (recommandé):
Mettre le plat surgelé dans une poêle préchauffée avec 2 cuillères à soupe d'huile. Faire chauffer à feu moyen jusqu'à ce que la sauce soit largement liquide. Puis laisser mijoter à feu vif pendant encore 2 à 4 minutes. Remuer régulièrement.
Au micro-ondes:
Placer les aliments surgelés dans un récipient allant au micro-ondes avec 1 cuillère à soupe d'huile. Chauffer pendant 7-8 minutes à 800 watts jusqu'à ce que tous les ingrédients soient complètement chauffés, en remuant de temps en temps.
Conseil:
Ajoutez 1 cuillère à soupe de sirop d'érable pour faire ressortir toute la saveur de la tomate.
Ingrediënten:
Gegrilde aubergine, gebakken paprika (paprika, zonnebloemolie), paprika, courgette, tomaten, cherrytomaatjes, tomatensap, rode uien, extra vergine olijfolie, sojasaus (water, SOJABONEN, TARWE, keukenzout), gember, keukenzout, Rozemarijn, zwarte peper, koriander, komijn, kardemom, fenegriekzaden, piment, nootmuskaat.
Kookinstructies:
In de pan met deksel (aanbevolen):
Zet de diepvriesschotel in een voorverwarmde pan met 2 eetlepel olie. Verwarm op middelhoog vuur tot de saus grotendeels vloeibaar is. Daarna nog 2-4 minuten op hoog vuur laten sudderen. Regelmatig roeren.
In de magnetron:
Zet de schaal in een magnetronbestendige schaal met 1 eetlepel olie. Verwarm gedurende 7-8 minuten op 800 watt totdat alle ingrediënten volledig zijn verwarmd, af en toe roeren.
Professionele tip:
Voeg 1 eetlepel ahornsiroop toe om de volle smaak van de tomaat naar boven te halen.
Ingredienser:
Grillet aubergine, stegte peberfrugter (paprika, solsikkeolie), peberfrugter, zucchini, tomater, cherrytomater, tomatsaft, rødløg, ekstra jomfru olivenolie, sojasovs (vand, SOYBEANS, HVEDE, bordsalt), ingefær, bordsalt, Rosmarin, sort peber, koriander, spidskommen, kardemomme, bukkehornsfrø, allehånde, muskatnød.
Tilberedningsvejledning:
I gryden med låg (anbefales):
Læg den frosne fad i en forvarmet gryde med 2 spsk olie. Varm op ved middel varme, indtil saucen stort set er flydende. Lad det simre på højt i yderligere 2-4 minutter. Rør regelmæssigt.
I mikrobølgeovnen:
Anbring de frosne madvarer i en mikrobølgesikker beholder med 1 spsk olie. Varm i 7-8 minutter ved 800 watt, indtil alle ingredienser er fuldstændigt opvarmede, omrør lejlighedsvis.
Pro tip:
Tilsæt 1 spiseskefuld ahornsirup for at fremhæve tomatens fulde smag.